The other day I got the annual delivery of summer apples from my aunt's garden. I always get excited by suddenly having a bunch of home grown stuff in my kitchen. But every year I realize that my apple cooking enthusiasm is really limited. The usual end to it is one sort of frozen form. This year, however, I pulled myself together to make something new, Tarte Tatin. I've always wanted to make this. Not so much for loving caramelized apples, but rather because of the processes involved, it looks fancy and the grand finally – where the answer on whether you have succeeded or ended with total disaster, is revealed by a flick of your wrist. I duly experienced both over two consecutive evenings. More about that below.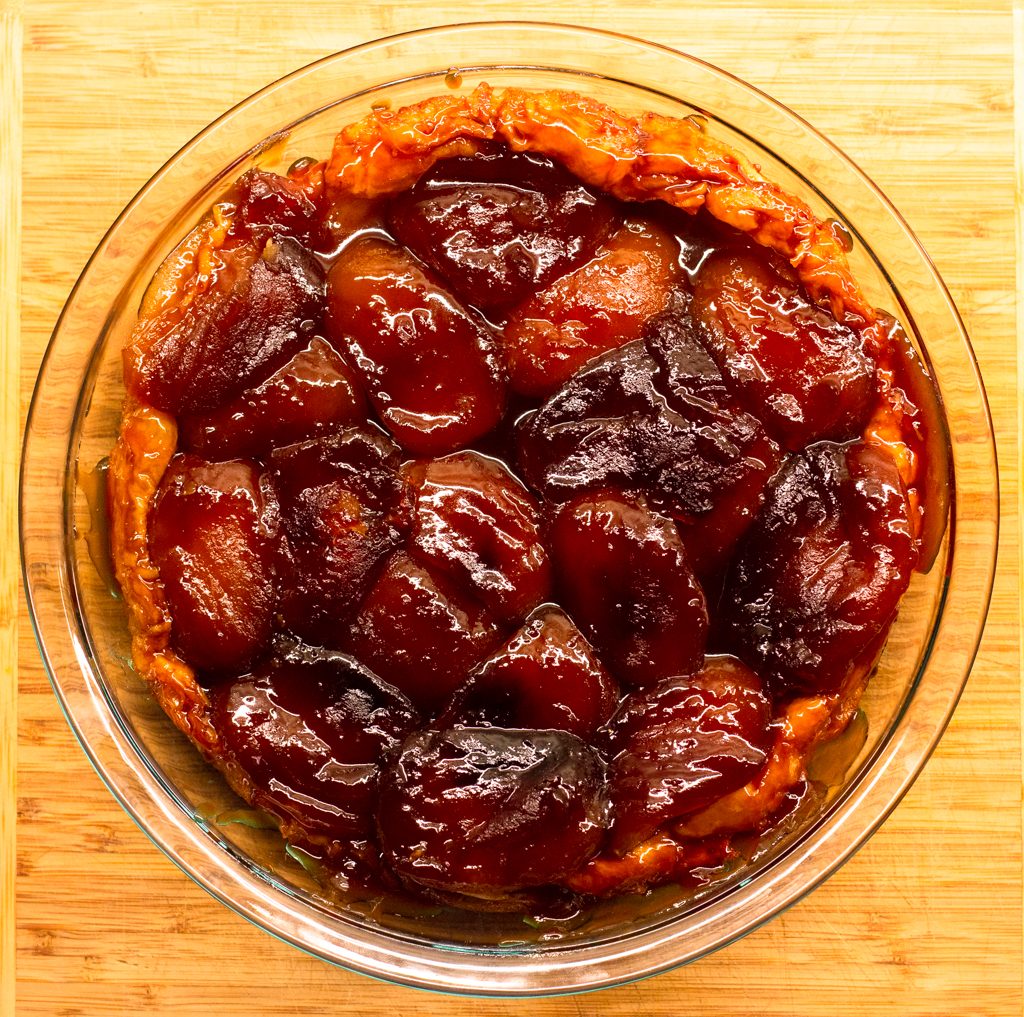 Tarte tatin is a legendary upside-down pie that originated by a mishap in the kitchen. Back in the 1880's, about a 100 miles south of Paris in the town of Lamotte-Beuvron, Stéphanie and Caroline Tatin runs a hotell business. One day while making an apple tart, Stéphanie, who did most of the cooking, the apple caramel started burning. In an attempt to saving it, she covered it with a butter dough lid an threw in in the oven, finishing it up quickly. The resulting inverted pie was an instant hit among the hotel guests. The mishap subsequently ended up as the hotel signature dish and one of the most well-known French desserts. Thanks you my good friend an neighbor F for sharing the story.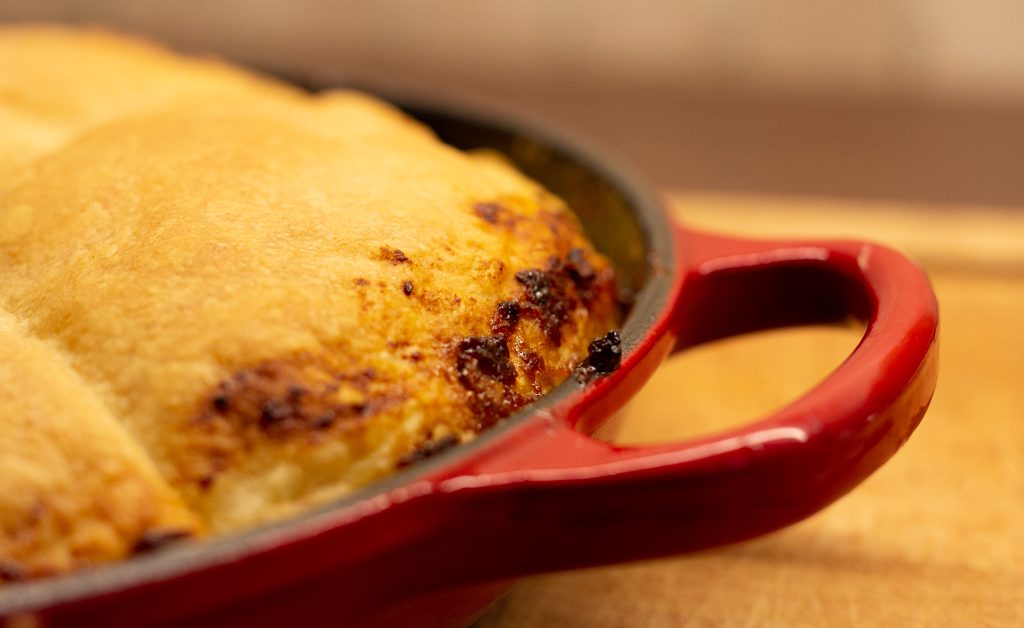 I have a hunch that a lot of dishes and food processes surrounds us must have originated in similar ways, as coincidences. But I bet that mishaps often are incompatible with the pride of certain chefs, thereby being presented as well thought through creations.
Back to my aunts summer apples. I used Smitten Kitchen's apple tarte tatin, anew recipe and got to work. It didn't end well. Since the apples are supposed to tenderize in caramel over time it is essential to use firm apple varieties. If not, you end up with caramelized apple mash slowly dripping down from the skillet once you've turned it upside-down. Very disappointing. Of course it tastes good, but the whole point of this dish is to end up with tender, transparent, caramel-glazed apples, and that is something special. The whole excuse for using the apples was squished, and I ended up buying even more apples the day after. Granny Smiths this time. My aunts summer apples end up as frozen cubes for smoothies.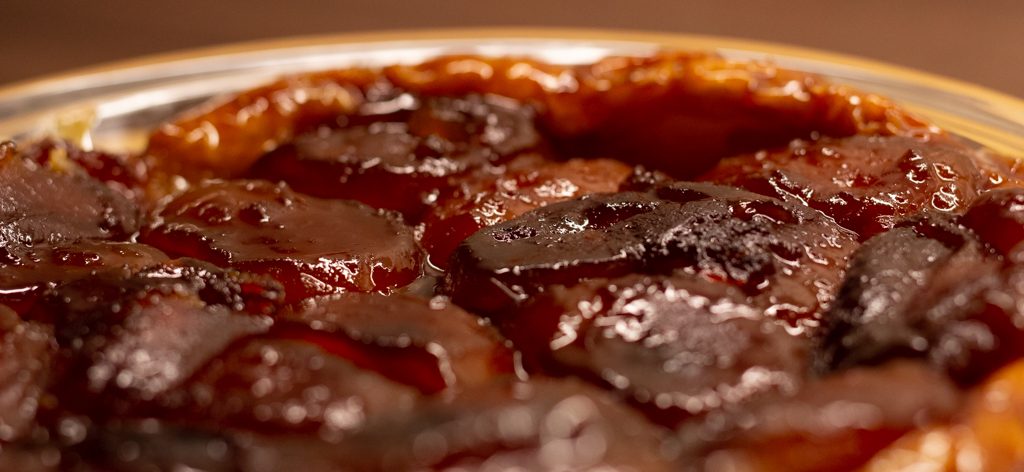 ---
The recipe is a super small modification of  Smitten Kitchen's apple tarte tatin, anew. The butter dough crust got better once I brushed it with a milk and egg yolk mix.
---
[siteorigin_widget class="SiteOrigin_Widget_Features_Widget"][/siteorigin_widget]
[siteorigin_widget class="SiteOrigin_Widget_Features_Widget"][/siteorigin_widget]
[siteorigin_widget class="SiteOrigin_Widget_Features_Widget"][/siteorigin_widget]
Merk
Denne oppskriften er for en ovnssikker stekepanne med ca. 22 cm i diameter. Har du ikke dette kan du også bruke en paiform av lik størrelse eller justere oppskriften etter hva du måtte ha.
Ingredients
---
6 Granny Smith apples (or other firm variety), peeled, cored and cut in 4 wedges.
85 gram butter
1 cup + 1/3 cup suger
Juice from 1/2 lemon
Tre plates of frozen butter dough
1 egg yolk and a little milk for brushing
Instructions
---
Peel apples and cut in 4 wedges. Cut off the corners facing the inside so that you end up with a flat side where the core was (see image below).
Add wedges to a bowl with 1/3 cup sugar and lemon juice. The acid and sugar will extract liquid from the apples, making sure that the caramel will attach nicely to them later.
Over medium heat in a oven proof skillet, melt butter and add the rest of the sugar. Stir regularly to the sugar starts to melt. Make sure the sugar doesn't burn. Take skillet off the heat once you have a light caramel coming together.
Arrange apples in skillet, the outsides facing down. The apples will shrink and adjust into one layer. Put back on burner, a crack more than when making the caramel.
Take the butter dough plates out of the freezer and let thaw on the counter.
After about 10 min, the caramel and apple liquids will  blend and simmer, almost cover the apples. Push down the apples regularly and use a spoon to scoop the caramel glaze over their tops. The caramel will thicken. After 20-25 min total, take it off the heat.
Lay down the butter dough plates on a slightly floured surface, overlapping each other. Roll out to a square covering the skillet area. Cut into a circle. Over the apples with the dough as a lid, tucking in the edge of the dough underneath the apples with a wooden spoon. Cut four vents in the lid.
Brush the lid with a milk egg yolk mix.
Put the skillet in the oven at 400 F for 18-20 min.
When the lid crust is golden and crisp, take it out. Put a pie dish on top of the tarte, facing down. Turn the whole thing upside down. Use a spoon to loosen if any apples are stuck.
Serve wit whipped cream or vanilla ice cream.