Super simple no-knead focaccia recipe that only requires some mixing (barely), sleeping and gentle pressing.
Letting white bread doughs develop slowly with small amounts of yeast, preferably under low temperature, makes a huge difference. This slow rise results in maltier and slightly acidic flavors, in contrast to the flat and yeasty taste of fast-rising bread. It does of course require a bit of planning and patience, but with no-knead recipes you can let the yeast do all the work while you're sound asleep. Another great advantage of over-night dough is that they require high degree of hydration, which in turn makes it easier to get a good crust. Inside, the texture should be chewy yet soft. This is rarely the state of focaccia bought in stores and bakeries here in Oslo, where you often flat flavors and small homogenous air bubbles, resembling more of a plain sandwich bread, camouflages with toppings.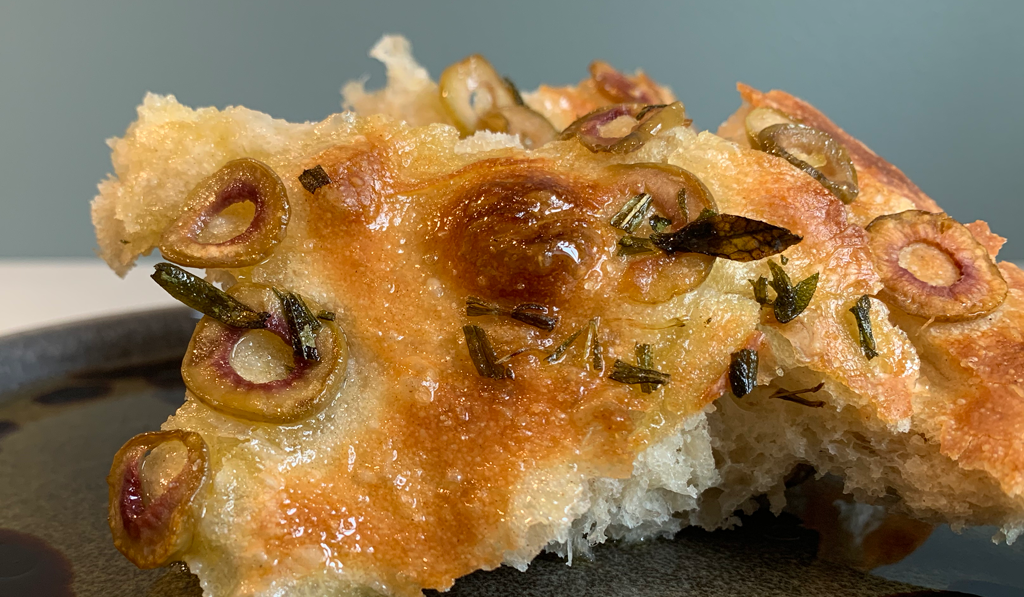 There aren't really any easy ways out here, but at least you can make the dough do the main job during night. I usually aim at starting this on Friday nights, making it last through the weekend. That's also just about how long it will stay good.
---
Size:
30×40 cm
Active time:
30 min
Total time:
12-14 hours
---
Ingredients
500 grams all purpose flour
15 grams salt
4 grams instant yeast
325 grams water
60 mL (1/4 cup) extra virgin oil
10-20 green olives, pitted, cut in discs or other shape of preference.
Fresh or dried rosemary, 2 or 1 tablespoons respectively
Salt
Instructions
Mix flour, salt and yeast in a large bowl.
Add water and mix with hands or wooden spoon until no dry flour remains.
Cover bowl firmly with plastic film and place in room temperature for 8+ hours.
Pour half of the oil in a baking dish (preferably with tall edges).
Place the dough on a well-floured surface, don't be afraid of using too much. Now you want to shape it into a ball. I usually do that (as with dutch oven breads) by pinching and pulling its edges out and up, tucking them onto the top. Work your around the dough so that the entire circumference of the dough has been pulled and stretched up, about 10 times. The ball will firm up and be elastic.
Transfer to the oiled dish, flip it around until the whole surface has an oily layer. Place the dough in the middle seam down, and gently press it down with your palms, flattening it slightly into a very rounded rectangle.
Cover with plastic film and let rise for 2 hours.
Chop rosemary and olives.
Heat oven to 230 C (450 F).
After 2 hours the dough should be stretched out quite a bit. Help it a little more, gently pressing the surface while scooting it into a desired shape, about 30×40 cm. Pop bobbles on the surface. Make small dents with your fingers and drizzle the remainder of the olive oil. Spread evenly the rosemary, salt and olives.
Cook for 16-20 minutes. The time it needs really depends on the oven and your own preference, so keep a close eye on it after 15 min. I usually let it turn dark golden brown, borderline burned, on its tops, .
The focaccia will keep well for two days kept covered with kitchen towel or an open paper bag. Plastic bags will quickly soften the crust, avoid that.
---
Via Easy No-Knead Olive-Rosemary Focaccia With Pistachios Recipe at Serious Eats.