Here is a quick filling beet salad, great for dinner. Regarding 'quick', beets in the oven requires patience, but you can do this a couple-three days ahead.  Make a double batch and bring for lunch.
Your urine might turn pink, don't freak out. Body✌?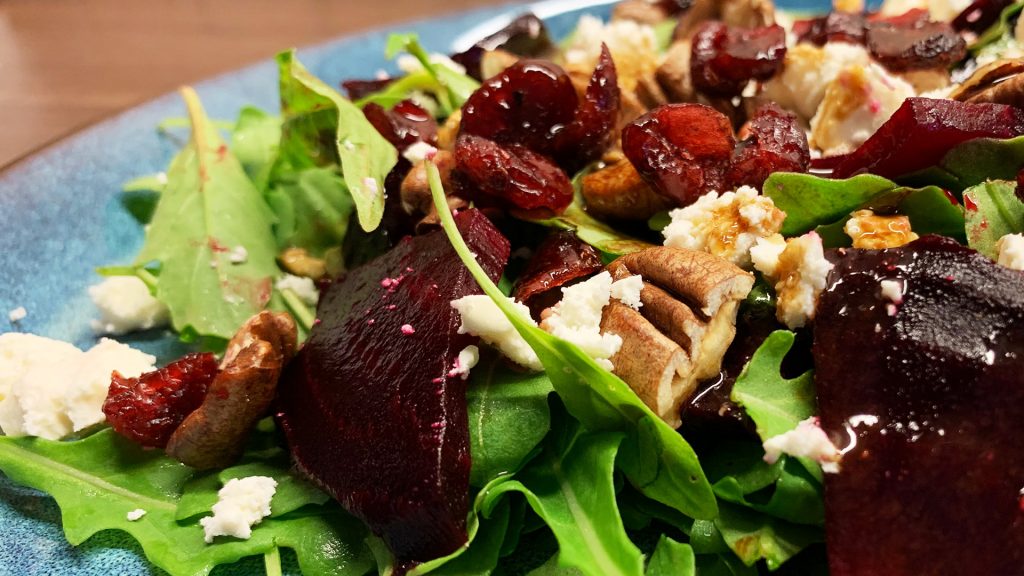 ---
Notes
Don't worry about getting the exact measurements of the different salad ingredients. The vinaigrette will tie tie all together in a really nice way.
We use to make a double batch and bring the leftovers for lunch. If you plan for that, you might want to keep the nuts, feta and cranberries separate from the rest of the salad until serving, so they keep their texture.
Basert on recipe from Natasha's Kitchen
Ingredients
---
Salad:
A couple packages of arugula (150-200 grams)
3-4 medium beets, baked
150 grams feta
120 grams pecan nuts, roasted (see instructions)
100 grams dried cranberries
Vinaigrette:
125 mL olive oil
3 tablespoons balsamico vinegar
1 tablespoon Dijon mustard
1 clove garliv, finely chopped and semi-puréed or microplaned
Salt to balance vinegar, ca. 1/2 teaspoon
Pepper, ca. 1/4 teaspoon
Instructions
---
Bake beets on 400 F (205 C) 1-2 hours, depending on their size. Turn them every half hour if you have an uneven oven, but this is not at all crucial. Test with a pointy knife after one hour, and keep a closer attention after that. They will not turn out like baked potatoes. You are looking for the feeling of a rare cooked steak. Let them cool and peel them. The skin is sometimes hard to get off, then use a knife and carefully cut it off. Cut in whatever size and shape you want. We normally end up with the same mass as a garlic clove.
Add all vinaigrette ingredients in a sealed container and shake for 10 seconds.
Roast pecan nut on 200 C (390 F) for 6 min. Do not forget them, they quickly burn. Let cool and cut each one of them perpendicular to their length.
Clean and dry the arugula and mix with the beets and vinaigrette in a large bowl.
Serve with pecan, dried cranberries and feta.