This recipe is derived from Alton Brown's Granola Recipe at Food Network. I've done some minor modifications to it. For example, I don't like pre-mixed dried fruits in my granola. I'll add them later if I feel like it.
Modify as you please. It's all about getting those favorite ingredients of yours to stick together in a crispy fashion. And you will if you follow these steps, substituting whatever you prefer of nuts, dried fruits and seeds.
Recipe
Total time:
1.5 hours
Oven heat:
120°C (250°F)
Ingredients:
325 grams (3 cups) rolled oats (store havregryn)
150 grams (1 cup) almonds, chopped in bits (what size is your choice)
100 grams (3/4 cups) pumpkin seeds, or whatever other seed or nut you'd like (but keep the almonds)
75 grams (1 cup) shredded coconut
75 grams (1/4 cup) brown sugar
100 grams (1/4 cup + 1 tbsp) honey
1/4 cup vegetable oil
3/4 tsp salt
1/2 tsp real vanilla extract (can be skipped)
Note: If you use vanilla essence, make sure to check the label for usage instructions. Depending on the brand, essence might be more or less concentrated in vanillin than extract.
Step 1:
Blend together all the dry stuff, including brown sugar but not the salt. Make sure to loosen up the brown sugar lumps, if any.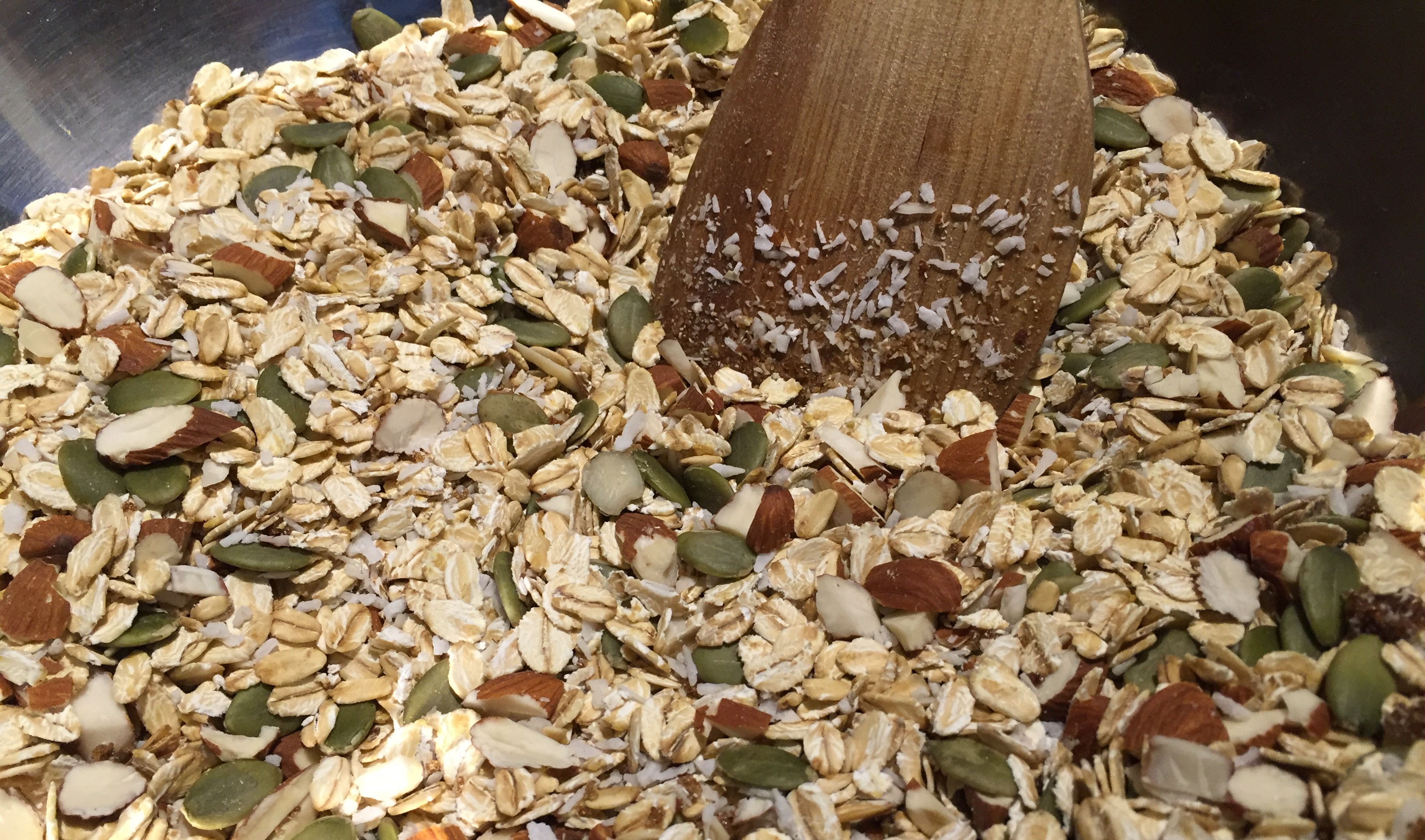 Step 2:
Warm up the honey, oil and salt together in the micro for about 30-45 seconds (mix once with a spoon), until they blend together. Add vanilla extract to the blend.
Step 3:
Pour the liquids over your oats and mix thoroughly until the mix has taken a darker color.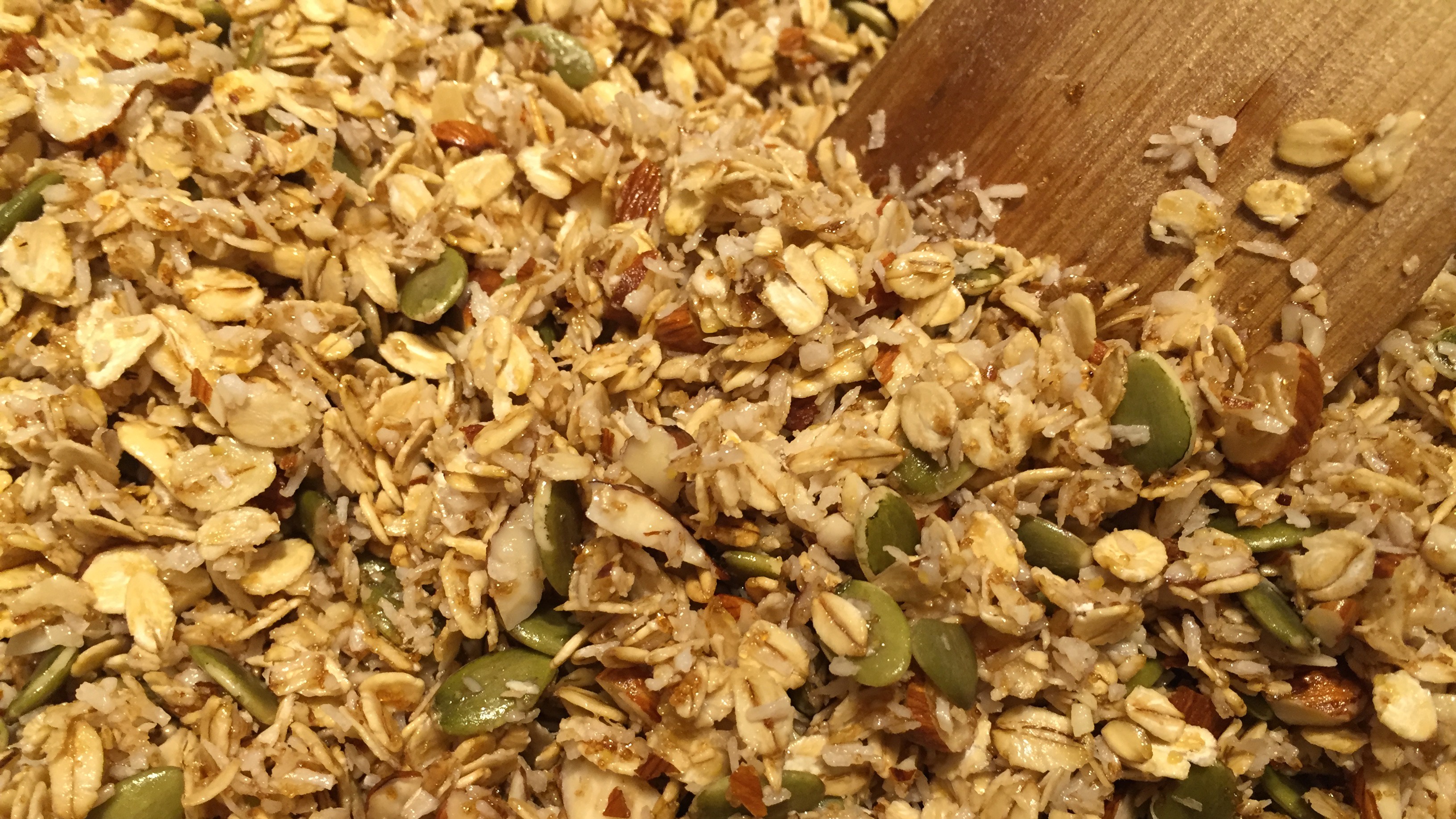 Step 4:
Split the mix on to baking sheet (stekebrett) lined with parchment paper (bakepapir), and put both trays in the oven with equal distance between them as between the top one to the oven roof.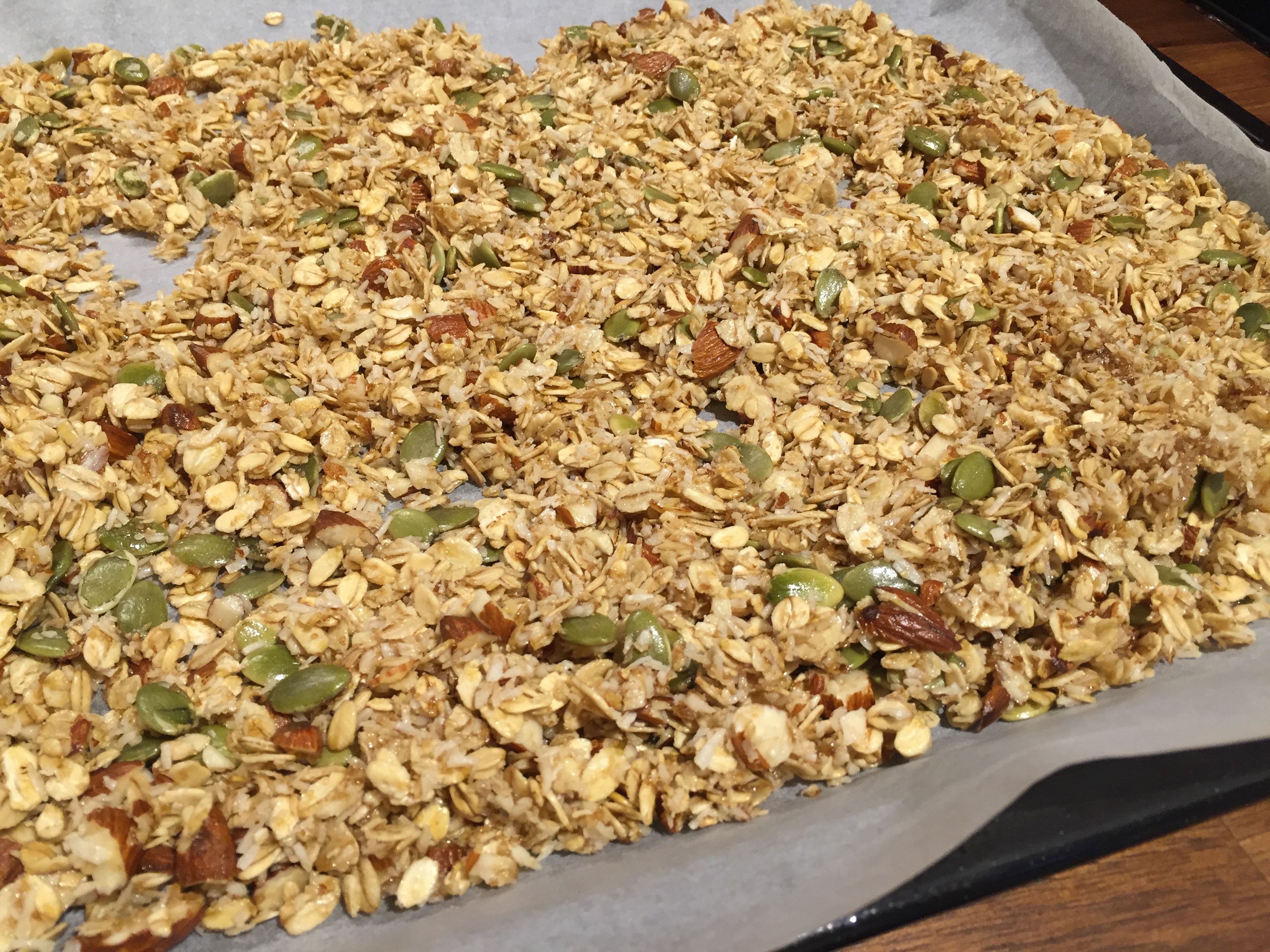 The total baking time should be between 65 and 75 minutes, depending on you oven. Stirr the grains every 15 minutes so that they get baked evenly. Also, swap spots for the trays halfway through the cooking since the upper tray will get more heat.
After the last stirring (60 min), press the granola down towards the tray. It will make the everything stick together in chunks.
When the granola has gotten a golden color, they're done! Take them out an let them cool for 30 min. What you want is the granola to stick together in larger chunks as seen in the photos below. When cool, transfer to airtight container.